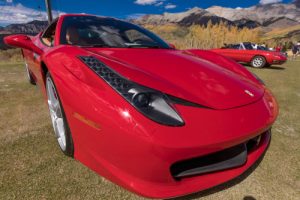 When you purchased a world-class supercar like a Ferrari or a Maserati, you knew it would be high maintenance. The high upkeep cost is one of the reasons these supercars are associated with luxury. Many motorists who drive everyday vehicles wonder why service for these supercars is highly specialized since they essentially share similar vehicle characteristics such as gasoline and oil. 
However, supercars cannot be taken into just any maintenance shop for even the most routine services. Here, we lay out five reasons why the long-term protection of your investment in a Ferrari or Maserati requires the best supercar experts in your area. 
Annual Service is Different
While each everyday vehicle will have its quirks, depending on the year, make and model, these intricacies are amplified when it comes to Ferrari and Maserati maintenance. The engine, brakes, transmission, and every other component making up your supercar are different from other vehicles on the road. These subtle differences and intricacies tend to change in Ferraris and Maseratis year to year. As such, your supercar technician must have the proper experience and necessary training to provide top-notch service. 
Maintaining Longevity is Different
Keeping an everyday vehicle on the road from new until it hits 100k miles is commonplace with many motorists. However, if you want your Ferrari and Maserati to last, you have to treat your supercar's longevity differently. Even the most simple jobs like brake pad replacement or oil changes will require a tech to understand nuances like sequential tightening of hardware, and so on. If any of these intricate details are overlooked, this will negatively impact the longevity of your supercar.
Even Supercar Repair Tools are Specialized
Properly maintaining a Maserati or a Ferrari for the long term goes beyond understanding its build and functions. These supercars require specialty equipment and tools to perform even the most routine services. As previously mentioned, one incorrect task performed on even the smallest of maintenance jobs can prove catastrophic for your Maserati or Ferrari. For these reasons, finding an experienced supercar technician is crucial. 
Otto's European Coach Werks: Ferrari and Maserati Experts 
We share our passion for supercars and how they work with each of our loyal customers. Be sure to check back to our blog often, as it is your resource for advice on your Ferrari or Maserati. We also share essential information on European luxury vehicles as we are Rolls-Royce certified.
When it comes to maintaining your Ferrari or Maserati, you need a service center that is licensed and reputable. Otto's European Coachwerks has 20 years of experience performing all forms of service on European Supercars. 
We offer fast, friendly, discreet service to some of the best clients in the Los Angeles area. 
To schedule, call or click today! We look forward to working with you.