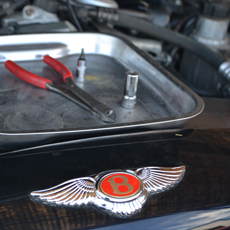 You value your car, so do we! Specialized in luxury car repair and maintenance with 20 years of experience, we are experts in Bentley vehicle repair to ensure optimal performance and safety for the driver and the car. With a team professional of (how many people) with significant expertise in Bentley engines and vehicle maintenance, we offer superior services to resolve all your car issues.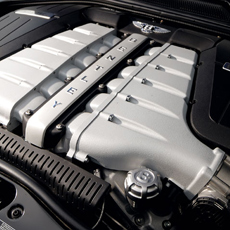 Common Mechanical Issues With Bentley
Bentley owners, who notice that the front end appears unusually low, should be aware that this is a sign for failing air suspension. If you hear a knocking noise from the front, it is an indicator for issues with the front suspension. Failing air suspensions are a common issue and need to be replaced.
Blocked plenum chambers are a risk for leaking water into the front footwells or the ventilation system, eventually damaging other electrical parts.
Other electrical issues are failing high-level brake lights located at the center of the rear end and the ECU, a complex system to control the electric windows.
Bentley Auto Maintenance Services
Maintaining your car to the highest level is important in keeping your car safe while ensuring high performance for both new and used car owners. We are located at 3300 Lincoln Blvd, Santa Monica, CA 90405. To get directions, click here or call (310) 399-3221 to schedule an appointment.
All Fluid Level Checks & Corrections
Oil Change & Oil Filter Replacement
Tune-Ups
Transmission Repairs
Scheduled Maintenance
Brake Repairs
Air-Conditioning & Heater Services
General Automotive Repair
Preventative Car Maintenance
Cooling System and Radiator Repair
Synthetic Motor Oil Replacement

Exhaust Systems Services
Alignments
Shock and Strut Services
Tire Repairs

High-Pressure Fuel Pumps Repair

Engine Diagnostic
Belts, Hoses, Fluids
Air Filters
Alternators
Batteries
Headlights
Starters
Bentley Car Maintenance
Common mechanical issues can be avoided or reduced by regular maintenance services. As an auto repair shop specializing in luxury cars, we understand our customers' concerns and needs and provide exceptional repair and maintenance services to ensure quality for your Bentley as good as new.
Our routine maintenance services are specified to your Bentley model and year. Contact us now with your specific model and year of your precious Bentley to be sure what type of service and maintenance is necessary to keep your Bentley at top quality.
Top Level service for your Bentley in the Greater Los Angeles area, because it is worth it!


Bently Car Models
Arnage saloon
Hunaudieres Concept
Continental GT coupé
Continental Flying Spur saloon
Azure convertible
Continental GT convertible
Continental GT Speed coupé
Bentley Brooklands coupé

Bentley Continental Flying Spur Speed saloon
Continental GTC Speed
Azure T
Arnage saloon, Final Series
Continental Supersports
Bentley Zagato GTZ
Bentley Mulsanne
2nd Generation Continental