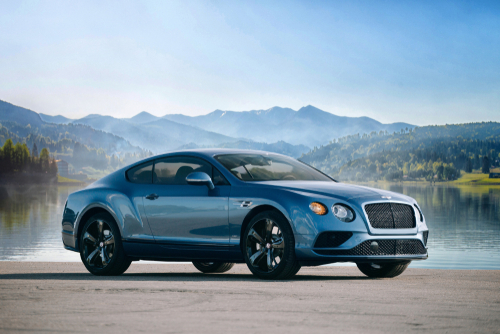 Few car brands spell luxury like Bentley. Founded in 1919 by Walter Owen Bentley, Bentley Motors has been producing some of the most high-end cars on the road—and the racetrack—for the last century. 
What makes them so special? Bentley cars not only come equipped with powerful engines, but their interiors are also crafted largely by hand using flawless leather, gorgeous stitching, and perfectly matched wood veneers.  
Bentley has built and retired a number of models over the years, but some of their best ones remain in production. If you've been thinking about owning a Bentley, consider one of these excellent options:  
First introduced in 1958 as the S1 Continental Flying Spur, this 4-door saloon has long been a favorite among Bentley owners. Designed to provide the ultimate in both passenger comfort and driving excitement, today's Flying Spur can reach 60 mph in 3.7 seconds with a twin-turbocharged 6.0-liter W12 engine. 
For those wanting a lighter vehicle and better gas mileage, the car also has a 4.0-liter V8 option and a hybrid version—both incredibly powerful in their own right. The Flying Spur also offers four driving modes: Sport, Comfort, Bentley (a combination of Sport and Comfort), and Custom. The Custom mode allows drivers to customize the car's performance to their liking for a driving experience like no other.  
Looking to take your luxury ride off-road? Bentley has you covered with the Bentayga. Designed to compete with other luxury SUVs on the market, the Bentayga has found fans even among the most discerning car enthusiasts. 
But don't let the sedan-like styling and sumptuous interior fool you; the Bentayga is an off-road powerhouse. Equipped with an electric anti-roll system, twin-turbocharged V8 engine, and four off-road modes (including one for driving on sand), the Bentayga was built for adventure. Intrepid explorers can customize their Bentayga further with extra underfloor protection and a luggage management system—or opt for the W12 Speed model, which tops out at a blistering 190 mph.
If performance is your preference, look no further than the two-door Continental GT coupe. Bentley's ode to the joys of driving, the Continental GT showcases sleek, premium styling and unparalleled power. Buyers can choose from the Mulliner model with exquisite luxury details, the V8 model with dynamic handling, or the Speed model that tops out at 208 mph and reaches 60 mph in 3.5 seconds. All three models have a convertible option as well.
The Continental GT features a lower center of gravity and active anti-roll technology to create one of the most stable and exhilarating rides in the industry. It also comes with nearly limitless options for customizing—including a trio of analog dashboard gauges so drivers can relive the early days of Bentley racing.  
No matter which Bentley you choose, you're sure to get the world's best in luxury and performance.
Need a certified mechanic to help you maintain your new Bentley? Contact us. We're certified by both Bentley and Rolls Royce for luxury car repair.