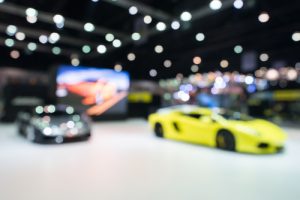 In our last blog post, we discussed the top three ways that you can get the tires on your car ready for winter. But what about the whole vehicle? As we mentioned in our last post, winterizing your vehicle is highly important with everyday consumer vehicles. If you drive a European supercar or a luxury vehicle, however, it is even more important. Not only are European supercars and luxury vehicles much faster and accel easier than regular consumer cars, they usually come with a much larger investment. Keep reading for some easy ways to get your vehicle ready for winter.
European Supercar Oil Changes
Oil changes are important year-round, but oil can thicken as the temperatures drop. If engine oil gets too thick, it won't lubricate your engine as well as it should. Supercars typically have a different oil change schedule than the common 3 months/ 3,000 miles that is recommended for regular consumer cars. Be sure to as your European supercar and luxury vehicle shop about the exact viscosity and details that are needed for your car.
Wiper Blades for Your European Luxury Vehicle
Visibility is reduced in the winter, especially if you live in a climate where you experience snow or freezing rain. One of the ways you can make sure that your driving visibility is as high as possible is to have effective windshield wiper blades. Most consumer vehicle manufacturers recommend that you replace your wiper blades yearly. Again, this can change based on how often you drive. 
Check the Battery on Your European Supercar
Before the cold winter months is the best time to make sure that the connections and posts on your battery are free from corrosion and operating properly. Most vehicle batteries will need to be replaced every three years. Needing a jump start is inconvenient at any time of year, but in the winter can be downright dangerous – especially if you are in an area with no mobile service. As is the case with our other tips however, batteries are different in European supercars. Be sure to take your vehicle to a certified auto shop that specializes in European cars.
The Right Antifreeze Mixture
When was the last time you checked your antifreeze? For most modern engines, it is recommended that your radiator has a 50/50 mixture of antifreeze and water. As long as your antifreeze mixture is right and is not too old, this will prevent freezing in the harsh winter temperatures. Your mechanic will surely be able to test this, or you can pick one up at an auto parts store. 
What to Do if You Get Stranded in the Winter
Anyone who lives in colder temperatures should consider building an emergency kit and making a plan in the event you are stranded. In your kit, keep some flares, a first aid kit, a flashlight with batteries, extra clothing and gloves, an ice scraper, a tool kit, windshield washer fluid, and paper towels. Be sure to keep as much gas as possible, as well as keeping a bag of sand or kitty litter that you can use to get your tires unstuck out of the snow. If you do get stranded, don't walk more than 10 minutes away from your vehicle. Light flares and put them on both ends of the car. If the car starts, warm-up for about 5 minutes every hour, or until help arrives. 
Driving in the snow can be dangerous, but if you follow these tips, you will help reduce your chances of having an accident while staying safe on the winter roadways.