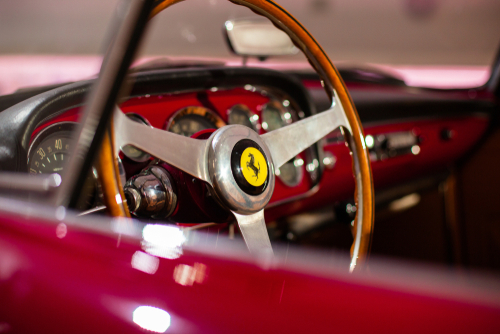 As exotic vehicle lovers, we know that they don't always make them like they used to. As much as new supercar body styles from brands like Ferrari are awesome, there's something about that classic feel. 
There are a few things that can help save you a ton of money before driving a classic Ferrari either off the lot or when buying one from a private seller. So if you are in the market for a pre-owned classic Ferrari, here are five key things to look out for when doing so. 
Service Records and Documentation
When a customer tells us they're in the market to buy a classic supercar or luxury vehicle, the first thing we ask them is if they have service records. Most Ferrari or other supercar owners take pride in caring for their vehicles. And as you know, not everyone can just walk up and buy a Ferrari from the dealer. You must have a track record, and part of that track record is the service.
When looking at the service record, take notes of what mechanical work was done with the vehicle, how often, and so on. If it was taken to multiple shops, that might be a red flag as well. If paper copies of the service records aren't readily available, that's not always a deal-breaker. This information can sometimes be found online, so be on the lookout for that.
Look Underneath the Car
This may seem like a no-brainer, but some people forget to do it. Take a look underneath the car. Do you notice any leaking oil or any other fluid? If so, you might want to avoid purchasing that particular vehicle, as it could be an indicator of an expensive repair bill that could have otherwise been avoided.
Examine the Clutch
When it comes to supercars, one of the most important things is how well the clutch still works. Be sure to take it for a spin to make sure that the car will shift into each gear in the transmission. If it slips or skips a gear, you can bring it up to the owner or dealer. If they offer to fix it, great. If not, you might want to think twice before purchasing that classic Ferrari.  
Engine Compression
Another crucial element to inspect is engine compression. A good supercar tech should be able to do a Ferrari engine compression test to ensure that there are no issues. If there are valve guide issues with the motor, this can lead to one or more cylinders having low compression. 
The last thing you want to have to do is rebuild an entire motor after finding out the cylinders have low compression. This can lead to a job that can cost several tens of thousands or more.
Check the Interior
Another seeming no-brainer is to inspect how the interior looks. The look of the interior will tell you how well the owner took care of it. For instance, classic Ferraris are notorious for having issues with shrinkage of the leather on the seats and the airbag covers. Some Ferraris can have the dreaded "button stick" as well, so be aware of that when observing the power windows and other buttons.
Schedule a Service Today
Did you buy a classic Ferrari but want to take it to a supercar expert you can trust? Look no further. Otto's European Coachwerks has over two decades of experience working with classic supercars as well as new ones, luxury vehicles like Bentley and Rolls-Royce, and so much more. 
We offer discreet services and drop-offs are available. Call us today to schedule an appointment, or to get directions to our shop.