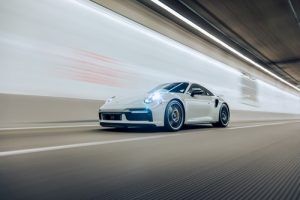 In the world of European supercars, owning a classic is one of the best experiences of a lifetime. With all of the mass-produced vehicles coming out today, five classics stand out to many European supercar lovers.
Porsche 911
The Porsche 911 might be the most recognizable classic European supercar of all time. Many car collectors and owners don't realize this classic gem has been in production since 1964. Some will argue over which years saw the best models. We have heard that the golden age of this classic started in 1974 with the redesign. Others may say they prefer the 1965 model, with its 2.0L 130 hp flat-6 "boxer" engine. Either way, the Porsche 911 is still one of the most iconic supercars ever.
Jaguar E-Type
Did you know? Enzo Ferrari described the 1961 Jaguar E-Type as the "most beautiful car he had ever seen." Way ahead of its time from its production until 1975, it had top speeds of 150 mph when no other cars came close. The earliest models came standard with either a 3.8L or a 4.2L inline-6 cylinder engine and also came with a 4-speed manual transmission.
Mercedes 300 SL Gullwing
This car is one of the favorites of many European supercar lovers. The 300SL Gullwing was equipped with a 3.0L six-cylinder engine and a 4-speed manual transmission. Its power was rated at 240hp. The interior of this classic remains stunning to this day, with either the noteworthy plaid cloth or the optional, sleek red leather.
Ferrari 250 GTO
This rare gem was manufactured from 1962 to 1964. There are only 36 models of this classic in the world. It sold for around US $48,000 at its time. It remains one of the most highly sought-after classic Italian supercars ever.
Aston Martin DB4
Manufactured from 1958 to 1963, there were only 1,204 models of this classic ever made. Its 3.7L engine could reach a top speed of 140mph, prompting many owners to take it to the race track. The early models had issues with overheating, but these were fixed in later years. in total were ever produced.
Otto's European Coach Werks: Trust the Supercar Experts
If you are in the market to purchase a new or pre-owned European supercar, you can trust the Supercar experts at Otto's European Coach Werks. We have 20 years of experience performing all forms of service on European Supercars. We offer fast, friendly, discreet service to some of the best clients in the Los Angeles area. We share our passion for supercars and how they work with each of our loyal customers. Our blog will continue to act as your resource for supercar advice long after your first appointment with us. To schedule, call or click today! We look forward to working with you.