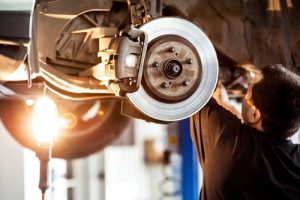 This probably isn't news to any vehicle owner, but brakes are an essential component of all cars. High functioning brakes are especially important on European supercars that are much faster than everyday vehicles. Along with world-class speed must come world-class stopping power. You won't always be able to stop on a dime, especially if your brakes are in need of maintenance or you are driving in poor weather conditions. 
Brakes are not only important for the safety of yourself as a driver and those inside your vehicle, but also for the safety of everyone else on the road. You should only trust the best and the brightest certified technicians to work on your brakes and service them regularly before they become a serious issue. Not convinced? Here are five more reasons to leave your brake repairs to the European supercar and luxury vehicle experts. 
European Supercar technicians have the right tools for the job.
Your everyday repair shop will have access to high-tech diagnostics, lifts, and other tools for normal cars with normal brakes. But your European supercar or luxury vehicle is special, and its brakes aren't normal. The best driving machines require the best brake repair specialists – both to stay safe and avoid unnecessarily costly future repairs.
A good mechanic has been here before and knows what to look for.
An experienced European supercar repair tech, this isn't our first rodeo. We understand the intricacies of vehicles like Bentley, Rolls-Royce, Lambo, Ferrari, etc. Common brake problems like faulty brake lines, rusty rotors, or bolts tend to look a little differently on these vehicles. This is why you need a specialist to handle your repairs. We'll spot a problem before it gets worse – often much worse.
Help you get the most out of preventative maintenance.
Your European luxury vehicle is a big investment. You will want to make sure that your brakes are properly lubricated, and that your brake calipers have proper upkeep. Dirt can get stuck easily in your brake calipers, presenting a danger to drive as well as unnecessarily expensive repairs.
The right diagnosis, with no-nonsense.
You need a European supercar repair tech you can trust. This starts with a laser-focused diagnosis of the problem and clear communication of what that problem is. If you need your brake pads or rotors replaced, a good tech should tell you that. Sometimes, the problem isn't your brakes at all. If this is the case, they should tell you that, too.
Trust California's Best European Supercar Repair Shop
Otto's European Coachwerks has over 20 years of experience repairing the brakes on all vehicles that come from Europe. We are Bentley and Rolls-Royce certified, which affords us access to parts that other repair shops might have to wait a long time for – or sometimes not obtain at all. We always offer discreet, timely, and professional service. Give us a call today to schedule an appointment or for further information.