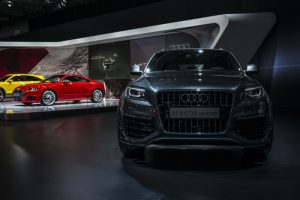 For those of us who are passionate about European supercars and sports cars in general, each year brings exciting new models. Models for the upcoming year (in this case 2023 models) are being teased by manufacturers around this time of year, so we will take a look back at some of the best European Supercars in 2022 in this article. 
We have made a list of some of the top-performing European supercars in 2022. The main focus was to add vehicles that can be considered sports cars and are accessible and drivable. 
While there are some impressive European Sports Cars and Luxury Vehicles coming out in 2022, we wanted to show some love to the sportscar market, as sports cars are typically defined as having two doors and two seats. Without further ado, here are our top 3 European sports cars in 2022.
BMW M4
The 2022 BMW M4 is being offered for sale as both a coupe and a convertible. BMW has a long history of making quality European sports cars, so why would that change in 2022? 
Under the hood, the M4 is an impressive machine. It boasts 503 horsepower and accelerates from acceleration 0-60 in just 3.4 seconds. The BMW M4 also offers optional all-wheel drive.
Audi TT
Often overlooked by vehicles that are louder and flashier, the  Audi TT is no slouch. The Audi brand has been making sleek vehicles for decades, and the TT is certainly no exception.
The 2022 model of the TT comes in either a four-seat hardtop coupe or a two-seat convertible. Each TT comes standard with all-wheel drive and a turbo four-cylinder. The TT has about 228 to 394 horsepower and goes from 0-60 mph in 4.3 seconds. 
Porsche Boxster
Any list of European sports cars would be incomplete without a Porsche of some kind. Porsche 911 models usually get all the attention, but 2022's 718 Boxster is an impressive sports car in its own right. 
The 2002 Boxster boasts a sexy soft-top, two seats, and two doors – which is the quintessential sports car. Boxster drivers know that these vehicles put other cars to shame, with a 4.0-liter six-cylinder engine, 414 horsepower, and 309 lb-ft of torque. The 2022 Boxster goes from 0-60 in under 4 seconds.
Otto's European Coachwerks: Serving the European Sports Cars Community
For over two decades, the expert technicians here at Otto's European Coachworks have been serving the European sports car community. We love these world-class machines as much as you do, and we want to see them all running their best. 
For directions to the shop or to make an appointment, don't hesitate to call Otto's European today. We deliver top-notch service and discreet appointments, working with the best that the Los Angeles area has to offer.