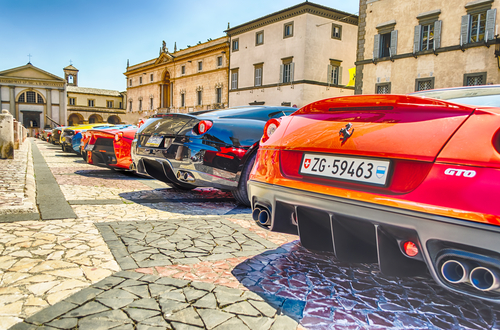 Let's face it: supercars are status symbols. They announce to the world that you've made it and made it big. You can enjoy the fruits of your labor by indulging in a little on-road luxury. And it feels good—everything from sliding into the hand-crafted interior to accelerating into a curve on a winding mountain road, to receiving the stares of admiration from other drivers.
But if you live in an area where supercars are as common as street lights, how do you stand out from the crowd? Well, we did a little research and came up with four of the most head-turning supercars in existence today. These cars will get noticed no matter what everyone else is driving.  
Ferrari SF90 Stradale
While Ferrari offers a bevy of beautiful cars, the SF90 Stradale is making its mark as Ferrari's next generation of supercar. It boasts an insane 986 horsepower, a 0-60 mph time under 2.5 seconds, and a much lower price tag than other cars of comparable performance. The SF90 Stradale's wing-like front end and deliciously sculpted rear end will have even the most hardcore supercar enthusiasts weeping with admiration. It's one of the most powerful, driveable, and beautiful supercars of any brand in production today.
But the most surprising fact about the SF90 Stradale? It's a hybrid car with only a twin-turbocharged 4.0-liter V8 engine. And you can get one for a modest $514,000. 
Lamborghini Aventador SVJ
Made from carbon fiber and looking sharp enough to cut asphalt, the howling Lamborghini Aventador SVJ is the kind of car teenage boys want on posters in their rooms. It comes with a naturally aspirated 6.5-liter V12 engine that finished a lap at the Nürburgring in under 7 seconds. The luxurious interior features carbon-fiber elements, leather, and suede-like Alcantara fabric. It's one of Lamborghini's most powerful, futuristic, and expensive production cars to date. 
About 800 Aventador SVJs have been made so far, and one can be had to start at $517,000. It's loud. It's audacious. It has terrible fuel economy and almost no storage or luggage space. But let's be honest: you're not buying this car for its practicality.
1961 Aston Martin DB4 GT Zagato
If you prefer a supercar with a classic vintage style that would make even James Bond envious, this is the one to get. Achingly gorgeous, the DB4 GT Zagato was designed as an improvement over the original DB4 GT, built only two years earlier. The Zagato's engine was a marvel of its time, producing over 300 horsepower, a top speed of 154 mph, and the ability to reach 60 mph in 6.1 seconds. 
While the DB4 GT Zagato won't overtake modern supercars on the racetrack, it will definitely turn heads. Not only is DB4 GT Zagato considered one of the most beautiful cars Aston Martin has ever made, but the Zagato is also incredibly rare and highly collectible. Only 19 were built, and their purchase price can exceed $10 million.  
If you really want to get heads turning, check out the Bugatti Chiron Super Sport 300+. Why is it called the 300+? Because it has a top speed of over 300 mph. Bugatti built it to celebrate being the first car manufacturer to break the 300 mph speed barrier. This special edition hypercar is made almost exclusively from carbon fiber and equipped with an eye-watering 8.0-liter quad-turbocharged W16 engine. Astonishingly, it's still street-legal.
The Chiron Super Sport 300+ is not just fast, though; it's also stunning. With a low profile, deep aerodynamic vents, soft curves, bold racing stripes, and a front end shaped into a monstrous scowl, this car is designed to make an impression. You'll want to order one now, though. Bugatti plans to release only 30 of them, starting in 2022. 
Need a certified mechanic to work on your supercar? Call the experts at Otto's European today.