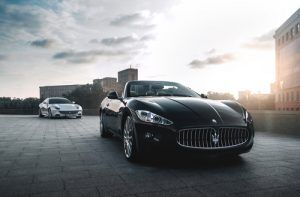 When it comes to owning and maintaining a Maserati, one of the most common questions we are asked is about proper service schedules. Maserati owners know that they are driving world-class machines that need servicing on time from experts. Here are five tips on what you need to know about your Maserati service schedule.
Oil Changes
As you know, oil changes in your Maserati don't follow the same schedule as everyday cars do. Every Maserati model is different, but the manufacturer typically recommends oil changes every 5,000 to 7,500 miles – sometimes up to 12,000. These oil change services are usually done once a year and also include replacing pollen filters.
Timing Belts and Spark Plugs
For Levante, Quattroporte, Ghibli, and GranTurismo models from 2014 and newer, it is recommended that belts and spark plugs be replaced or serviced once every four years. Earlier models will benefit from more frequent service, including annual oil changes and brake fluid flushes.
Other Common Maserati Maintenance
While following the recommended service schedule can help keep your Maserati running its best, you may require maintenance for worn-out parts that need replacing. These parts include brake pads, rotors, gaskets, and seals. Maserati owners may also need cosmetic issues addressed in the interior like sticky buttons and leather shrinking.
Maserati and Ferrari Maintenance Are Different
Just because Maserati and Ferrari are sister companies does not mean that their service schedules are the same. The service requirements and ultimately the costs of maintaining a Ferrari tend to be significantly higher than that of their Maserati counterparts.
However, there are some similarities in some of the most common repairs on both Ferraris and Maseratis. As these vehicles age, two of the most common problems that owners of Ferraris and Maseratis experience are sticky interior buttons that sometimes don't function, and that they sometimes leak oil. Another common problem with some older manual models is that the clutch will need to be replaced.
According to Maserati owners, two of the most common problems they experience with their vehicles are malfunctioning window regulators and door handles that don't properly open. These issues can be addressed relatively simply. The biggest labor-intensive maintenance service that owners of Maseratis tend to need the most is a timing variator or clutch replacement.
Depending on the year and model, these services may cost $7,000, or more. However, ignoring one of these problems and allowing them to get worse is one of the main reasons why repair bills for Maseratis are higher than some owners expect.
Always Hire An Expert Maserati Technician
When you are in the market for a Maserati technician, you can't leave the health of your vehicle to just any auto shop. The experts at Otto's European Coachwerks have over a decade of experience and first-hand knowledge of the proper maintenance schedules for these world-class machines. To schedule fast, friendly, and discrete Maserati services, give Otto's a call today or fill out the form here on our website.