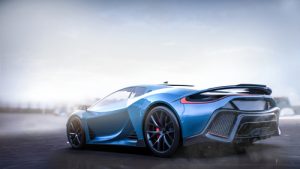 Those considering buying a pre-owned European luxury vehicle or supercar, are justifiably concerned about the location of where the car was driven. This is also important for sellers who might experience potential buyers who share this concern. This blog addresses how much the local climate affects the value of these world-class machines.
How Location Impacts the Value of Pre-Owned Supercar and Luxury Vehicles
For many supercar or luxury vehicle buyers, the main concern is purchasing a vehicle from Northern areas. However, coastal areas near large bodies of saltwater, like the ones near the Los Angeles area, can damage vehicles a bit too if left outside. There is generally more to be concerned about with cars that were driven in northern climates where it snows regularly in the winter. Here's why. 
When northern roads become icy in the winter, road crews must apply salt to the roads to prevent slippery driving conditions. A car that is driven regularly on roads with salt in the winter can cause rust issues, especially for classic cars that are a few decades old. 
However, in our experience, European supercar and luxury vehicle owners who live in northern climates don't take their vehicles out in the winter. Some of these careful owners don't even drive in the rain. If you own a Bentley or a Lamborghini, you're probably unlike most everyday motorists and take great care of your investment. As such, this concern for the location of the seller does tend to get overblown by many buyers, but is still a legitimate one, nonetheless.
It All Comes Down to the Owner
Making location-based generalizations can mean that the buyer is missing out on an exceptional pre-owned European supercar or luxury vehicle. In our experience, most owners of these world-class cars keep them in excellent condition and they are well cared for. Many European supercar manufacturers require owners to keep a detailed record of services performed on their vehicles. Many of these services include proper winterization of vehicles, even if they will only be driven minimally in the winter months.
Further examination should be part of the process regardless of the location. You will want to examine all of the factors to determine whether a vehicle is a wise investment for your money. It's all part of the due diligence process required for finding the perfect European supercar or luxury vehicle for you.
Trust The European Luxury Car Experts 
At Otto's European Coachwerks, we are as passionate about new and pre-owned European supercars and luxury vehicles. The exotic car experts in our shop have over two decades of experience working on these legendary vehicles. If you need discreet, expert European supercar or luxury vehicle services in the greater Los Angeles area, look no further than Otto's. We are certified in Rolls Royce and Bentley, and have access to premium parts that other shops don't. Call our shop today to book an appointment or for directions.